Published 2021-11-04 12:00:00 UTC 3 Minute read
Korean and German metal music...join by hologram
Victor Smolski, "Korean band's soft flexible melody is unique". German heavy metal group Rage/symphonic power metal band Almanac guitarist. Joint concert with Korean band Messgram 'The Rock Online'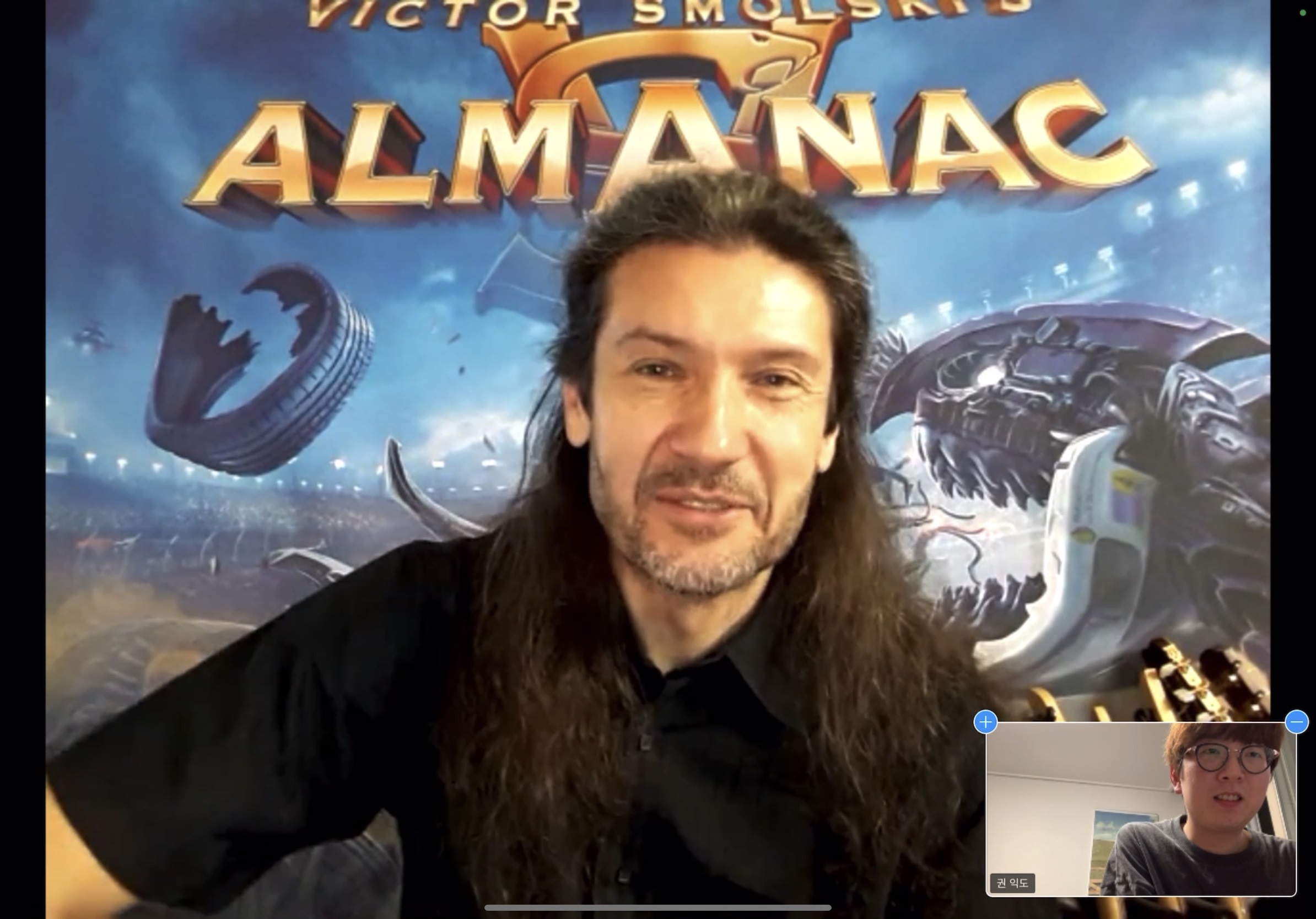 IONE ENT
(Seoul, Tomato News) November 4, 2021 -- Kwon Ik-do -- Korean and German metal music...join by hologram
[News Tomato reporter Kwon Ik-do] There are many people who make albums, perform, and beads of sweat for the "brilliant brilliance" of the pop music scene. Nevertheless, they are buried and disappeared in the music saturation that fills TV charts. In the "Band Wandering of Kwon Ik-do," even in this sad situation, looking at the "brightly shining" musicians as if taking a walk with the heart of a traveler. (Editor Note)
Rock does not die even in an era when barriers between countries have been raised due to prolonged pandemics. Korean and German metal music will perform hologram collaboration beyond time and space.
World-renowned guitarist Victor Smolski (53) will meet music fans from both countries with the Korean band Messgram and the performance "The Rock Online" at 8 p.m. on the 5th to 6th.
Born in the former Soviet Union-Belarus, Smolski is a world-class guitarist who went through the famous German heavy metal group Rage formed in the mid-80s. Based on his classical knowledge, he has actively used orchestration in Rage music and is currently leading the symphonic power metal band Almanac.
Starting with the Busan International Rock Festival in 2004, he has visited Korea four times. In an exclusive meeting with a reporter via video on the 2nd, Smolski smiled, saying, "It is a global common phenomenon that the popular music industry has faced a terrible scene due to the COVID-19 incident. It is a difficult time, but I am very excited to show Korean and German metal music in a unique way."
Earlier on the 30th of last month, Smolski sat in front of a monitor in a German studio to record the performance and grabbed the guitar. He also wore white clothes for the first time in his life due to the implementation of holographic technology.
"I always wear 'all black' on stage, but white clothes and black background, which was a groundbreaking. My holographic image was expressed in a special color. It was like watching a future science fiction movie."
In the performance, he plays four representative songs on guitar from his time in Rage to Almanac. In the order of "All I Want" and "Self-blinded eyes," Messgram bassist Chan-hyun performs a duet with him of hologram.
"Every time I visit Korea, I am surprised that there are many promising musicians. Korea's unique soft and elegant melody is very unique. There is a novelty that is different from the European scale based on standard metal or power metal sound. There's a lot to learn because something new always pops up in the process of jamming together."
Smolski learned piano and cello from the age of six under the influence of his father, a classical composer. From the age of 11, he fell in love with guitar and spent five years exploring the rock and jazz world at Jazz College in Belarus. He was influenced by world-renowned guitarists such as Gary Moore and Van Halen, and he studied Sean Lane. The unique fast playing skills, which is smooth in a relaxed state, was developed by interacting with Lane.
"It's important to interact with musicians who play better than you. However, efforts to develop one's own style without copying other people's songs should be combined. Music has never been a job for me for a moment. It was just a language and a life itself that freely expressed what I wanted."
The world-renowned guitarist is also a car racer. In the past two years, he has won two gold medals at the German rally cross championship. The car racing is same just as metal music travels the world. Mexico, the U.S., Europe... Maybe that's why. The strong music reminds me of the autobahn racing.
"Holding the guitar on stage and holding the steering wheel are similar. First of all, adrenaline goes up. The audience is crazy. And you have to concentrate all your nerves... In my hand."
He also strongly criticized the environment of producing music by taking only good melody samples from computers.
"Isn't that 'Robot Music'? If you're a musician, you have to go to the studio and play your own instruments and make a story. And you have to sing live what you feel on stage. That's how you love music."
Fascinated by the sound of sitar while on a pre-COVID-19 Indian tour, he has recently attempted to combine it with guitar sounds. He plans to release a solo album next year and have a European tour and guitar workshops. As soon as the Corona situation improves, the Korean land will also be stepped on again.
"In general, South American audiences are usually very rough. European audiences are watching with their arms folded, wondering how good they are. In comparison, Korean audiences are very balanced. They are kind and considerate of people around them even though they have fun running around. I really want to see it again."
Finally, he called his musical journey "a hallway that will unfold when you open the door."
"There is no such thing as a specific destination. It's like a horizon that you have to keep walking and walking."